We marked 2021 with a year end celebration with our members and executive board to express our gratitude for their continued support and participation. Two awards were given out that night based on member votes. Congratulations to Ketha Molina who received the 2021 Most Influential Innovator of the Year award for her proven track record of innovative improvements through program development, training and staff development! Congratulations to Elaine Seifert who received the 2021 Safety Professional of the Year (SPY) award for her continued leadership in the Chapter executive board and as an influential health and safety leader in the community! The executive board looks forward to 2022 when we can all get together again.
On Wednesday, August 18, 2021, we had our first in person meeting for the Permian Basin Chapter at Ranchland Hills Club in Midland. We used this opportunity to do the following:
recognized and thanked our past 2020-2021 Executive Committee officers for their service and support
recognized Ketha Molina for her outstanding leadership as the Chapter President for the past 3 years and Judy Williams for her role as the Chapter Treasurer for many years
2021-2022 Executive Committee Officer Induction for the new Chapter officers – our largest roster of elected and volunteer officers to help support the Chapter!
Welcome our 2020-2021 ASSP Permian Basin Chapter Executive Committee!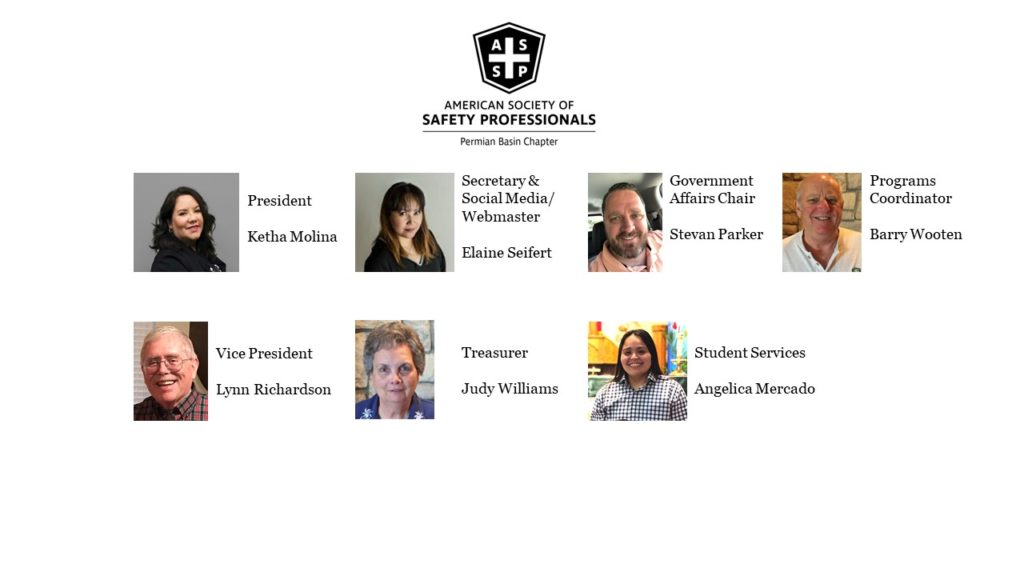 Along with our Members-At-Large:
Jason Sanchez, Safety Compliance and Training, LLC, Safety Consultant & Trainer
Nathan Ferrell, Independence Contract Drilling, HSE Manager
Chris Stroz, Chevron, Field HSE Manager
Randy McClay
Bridynet Lionnel Yayo